"Eric. I'm gonna throw up."  "what?! Are you ok.?"  Yeah…. No. no I'm not.
This is generally a bad conversation any where. At any time. When you are 3:30 hours into a back country ski race from Crested butte to Aspen and its 3:30 in the morning, it's a REALLY bad conversation.
Last year a friend off mine, Faith, asked me to help her train for a back country ski race call the Elk Mountain Grand Travers.  I said "sure. That's randonee racing right?"  I had heard of and seen this before. After being tempted with some discounts my past life mountain man came out screaming and I was not only helping faith train I decide to do the race with her. A team race where you have to stay with your partner at all times.  It was great we did the reverse route due to heavy snow and avalanche danger but it was fantastic. An amazing race. A great experience, the whole 9 yards.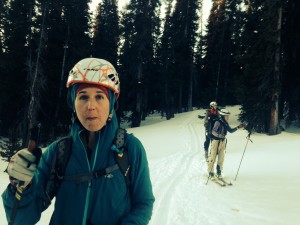 This year. We were better. Faster. More experienced and had our sights set on 10 hours if the conditions were good. They were.
Race start was great. We found some space in the 400 racer crowd, settled into a rhythm and the next thing we knew we were down the back side of crested butte ski area and doing the ski/ walk dance down east river valley. Things were good. I was getting annoyed with the dirt but it seemed like we were in a better position than last year.  Soon enough we were in what Faith and I called our Jam Room. The long gradual climb up to star pass. Its long. 2:30- 3hrs or so
Now as many know Faith and I are not the same speed. In shorter races I have been 60% faster than her. The harder the downhill's and steeper the up hills the bigger the gap. This year Faith had improved and was holding me to only 40-50% she was considerably faster, more fit over all and more confident. Things were really starting to fall into place.
"I feel… kind if gagy"  Faith said. 3 minutes later she threw up. I was worried but it wasn't bad. Just some liquid. Her drink mix had settled and she had only drank a small amount of highly concentrated sugar and salt. Like I would have done. "Just give it some time it will dissolve soon". Well a few hours in it hadn't and the damage was done.  I told her it was fine she seemed in good spirits. We shock her pack up to mix it better while moving and got back to it. "I have seen this many times. Triathletes gets to much water in their stomach on the swim, they hit the bike try to eat and drink and bam. "Its ok, You'll be"…. She vomited again. This time it was more… full bodied if you will.   Shit, this is bad I thought. "ohh sorry" I'm ok I feel better now. We pressed on, I slowed a bit not to push her body too much. Things like having to turn around, put her on a snow machine and finish alone, calling Lindsay (my wife) who had flown from LA on a work trip to Dallas so she could then fly to Gunnison, get picked up driven to CB only to  then turn straight around and drive to Aspen that same LOOOOONG day and tell her were weren't gonna make it ran through my head. "I feel really depleted Eric"  Faith tried to eat and barfed again.  I can't believe this, I thought we're not gonna make it.
After my 1 minute self pitty party I starting doing what I have been for 17 plus yeas, Ask questions. I grew up with Science, I majored in science in college and being a Coach for 17 years It is how you gain knowledge. So like a 2 year old I asked myself "why?" why is she throwing up? At 4 am?
Morning sickness? Going to hard? Altitude sickness? Not enough water/ too much sugar and salt. It was likely the later as she noted that earlier and even if it was something else I couldn't fix any of them. Water. We get to friends hut and we'll get some straight water in you and you'll be good.  We got to friends hut I got some water and she evacuated everything else from herself.
So now,  imagine throwing up 4+ times at 4am, 4 hours into a 10-12 hour race. You are now dehydrated, bonked and, oh yeah. At 11,500 feet and need to get over a 12,500 foot pass just to get to the half way point of the race. Sit back, take a breath and think about what you would do…
For my roadie friends Imagine throwing up 1 hour into the last stage of the tour of the Gila. Tri geeks. Imagine barfing all over your bike and having your water bottle fall off of it 20 miles into the bike leg of an Ironman.  That's where we were.
Recovering from being totally bonked in a race in almost impossible. You need to stop completely. But that will have you missing a time cut in no time. Even then you will never totally recover. Keeping forward motion of even the easiest pace, for even the most elite and efficient athletes will be a monumental task.
   Faith came back from the powder room looked straight at me and said OK I'm in bad shape but OK, lets get over Starr pass. Her look and tone spoke me very clearly, "we are going to fucking Aspen"  This is why I race with her. This kind of toughness and mental self-focus that cannot be taught. Ok let's take it slow and one section at a time. She pulled on her pack, we readied to leave and… "is my back wet?" I looked and her pack was dripping water. I had mixed up her water Bladder, poured half of it out and got both of our 12 ounce water rations in her bladder. Perfect! Working tummy here we come!  But… somehow when we put it back in the tube came detached and the entire thing drained out on the snow near friends hut. A mere 14 miles into a 36 mile race.  I put on a different shirt so the water guy wouldn't noticed me. Because the sticker on my helmet is barely noticeable. He gave me more water (not quite 24 oz) without me having to go into what had transpired over the last hour. I thanked him got Faith her water. She said sorry about 65 times. I looked at her and said "you know what the back of your shirt says?" "yeah, I got it" she said, and we took off.  I shifted to finish mode rather than race mode.  We headed up slowly, steadily, Faith in tow (we tow 100% of the race). She went just hard enough to stay warm. Dragging her polls, eating some calories with her mittens on took both hands. Up and over star pass. I was freezing now. Faith was steady skiing down star pass which is amazingly beautiful and we stopped at the next check point at the finish of the decent. I warmed myself by the fire. As the sun started to light up the sky. Faith was feeling better just weak now.
  Back to business. Her water gone now we both drank from my camel back. Faith kept everything down and soldiered on. No whining, no complaining, no pitty parties, no feeling sorry for ourselves. Aspen. Just Aspen. We took our time at transitions, snapped some photos at summits and only looked where we wanted to go not at the obstacles in our way or the events of the past. We stayed right here, right now, every second of the race.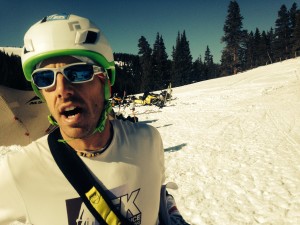 Taylor pass was way longer and harder than I had imagined. But we both knew now. We were gonna make it. The next "bump" was again very hard but soon enough Barnard hut was here and the mandatory 10 minute stop. We drank our soup, changed some layers, got water, tock a few pics and were off right as Jax gave us clearance. 10 minutes never went so fast. We skated out of the hut and skinned up at the next hill. "We are gonna make it."
Some time passed and that bone crushing fatigue crept in. The temps rose and every hill top we both drank from my camel back. At Barnard I just filled up mine with our allowance. No need to add any extra weight to Faiths pack at this point. She was going deeper than I have rarely seen. Ever.  My watch had died and I asked her our time. "10 hours" really?!  Considering everything we would not only finish we were going grab respectable place.   Every minute of Richmond ridge is crushing.  Finial we came to the aspen sun deck and descended the 3 mile long run down the resort area to the finish.
I gave faith a hug. She said that was the hardest thing she has ever done. When people asked us how the race was we had no words, at that moment it was unexplainable.
The back of faith shirt says this. The same as mine. "Obstacles are what you see when you take your eyes off your goal"  
People who have who have gone the extra mile in helping us along the way: