In the fall of 2014 Chris Carr and his Denver fit loft cycling team won the Steamboat stage race in dominating fashion. This, seemingly text book win, looks quite different when you read the following pages. I have had the privilege of coaching and racing next to Chris since 2009 and throughout that time I have seen the growth in him, his teammates and cycling in general.
I will look at some power files. In detail. Talk about race tactics, etc. but the real story, I feel, lies deeper. What about the Oreo rumor? The demons of past years? Does Chris really measure his food before he cooks it?   Now look ,there are a lot things to winning races like this. I could write a whole article on all kinds of topics. his bike fit. his clothing, wheel and tires choices, his training. i could talk a lot about that, his toughness, and more. But I saw these tools that we used to execute a nearly perfect race agents a very tough and motivated field a bit strange and worth mentioning.
On the outside the race was won from pillar to post with Chris always having a lead. He won stage one the TT by almost 30 seconds.  Young up and comer George Simpson was second and the always threatening Michael Burley 3rd.  We celebrated. A great and well deserved win. Chris is a great time trialist so this was no surprise. But it is much easier to loose than win and Chris has lost this race before. More than once. So how did he win? The night before I pulled him aside. No distraction, no others around, no pot of boiling water etc. I showed him his power file from last year and the result it got him,  not even in the top 3. We looked at the mistakes he made.  We talked about why he made them.
I then showed him a power file from a winning TT he had. We talked about why he executed the race that way.  Then I told him how he was going to ride the course. Yes, I told him exactly what to do. This is rare, I work as a teammate 99% of the time but this was different. The next morning we rode the course. Wind direction, turns, road surface, temperature everything. Chris made some observations and we adjusted some. Before the race it rained, Hard. 5 minutes before the start he lined up roads soaking wet and a light mountain sprinkle still came down. I came up beside him he looked straight at me. "Settle to 330 watts quickly, find my rhythm, and build on the last stretch if I can, stay low on the finishing rollers. I got it. I'm going to take it easy on the turns. It's too slick. I'm not taking any risks" I nodded and rode away.  I'll say I knew he was going to win but not many would believe me. Chris did a very steady 335 watts normalized.  Not huge, by cat 1 standards but when you take into account that he weighs 137 lbs and has an incredible aerodynamic position it adds up to a being very fast. He has set course record at the tri lakes TT two times now I believe. "so EK you impressed with your boy? What did he do for watts?"  "About 335." "nice! You impressed?"   "uhhhh… yes I am" why did I hesitate? I was impressed but not with his watts. For 26 minutes he should do north of 340-345 on his TT bike. It was the mental prep, the adjusting to wind, not letting your ego be a slave to the power meter. The beautiful and perfect day we had than turned into a humid deluge with wet dangerous roads and still executing a flawless race. This is how the TT was won.
"Ahh Ek no special workouts? No secret wind cheating leg oil?" Nope.
that night we celebrated and I joked about how hard tomorrow would be for me and my "triathlon legs".  I joked "I'm bringing the meat stick with me fore after I get dropped."  In our race goodie bags we were given a beefy jerky type hickory flavored "meat stick". We were not the only ones at registration that noticed this and thought it was strange for a bunch of skinny, detail obsessed cyclist such a thing.
We all had a laughed that night before the road race. The jokes and subject of the meat stick keep coming up.
Day 2.
Rain. This was bad. Not the best situation. Cold. Below 50 and rain.  80 miles with hills, railroad tracks and the biggest threat, every other rider in the field aiming for the big target on our backs. We knew our team was under powered and so did everyone else. Rory Kelly, Nathan west and myself not the riders we used to be. Leaving only Luis with the only real Cat 1 legs to help Chris. We came up with a plan. "Fake it till you make it!" this was no joke. You follow moves and ride at the front with the best poker face daring people to attack until the lights go out. period. The stronger your competition thinks you are the stronger you really are. The less they will attack and the longer they will wait to make that big move. The road race has 40-50 miles on wide open roads and rolling hills. After that 5 hills around 10 minutes long that would shatter the group before the final 20 miles and 2 short finishing climbs. If Chris was isolated by the dominating and deep horizon organic team the lead would be easily lost.  At the team meeting I had a… not so normal speech. "guys I don't care if we lose the lead today. The hard part about being at the top is there is nowhere to go but down. What I do care about is that we all give nothing less than 100% and follow our plan.  If we do that and fall to 5th I'll hold my head high. We all committed to each other we were going to do this, Chris ate a few more Oreos and we drove to the start. The Oreos were in surplus as somehow all 3 cars that meet at our condo in town all brought a bag.
After a stressful start the clouds parted, the sun came out and I tock all of Chris's extra clothes.  And quickly shared the burden with another teammate. A break formed early. Good news it was only 2 guys. Bad news Fabio Calabria was one of them. The strongest most experienced rider on the Horizon team. And only 40 seconds behind Chris in the overall. As I moved to the front of the pack to set tempo and defend our lead I passed Chris in the pack. I pulled out the meat stick, held it up, and said "don't worry Chris, I got this!" he and some others in the field laughed.  Perfect I thought. In reality I didn't have much.  I'm not sure if people were laughing at the fact I had brought the meat stick with me or at my jokingly over confident statement. It didn't matter we were relaxed and having fun while under pressure. The way winners act.
We rode at the front, Chris stayed out of the wind and conducted himself like a true leader. He instructed us to slow down some more than once. As we picked up a tail wind it got harder and harder as there is less of a draft. On the first hill Nathan and I were dropper leaving Rory and Luis.  Luis was gapped and dropped but he was with second place rider George. "Give 100% today right?" yup and this was likely the hardest 100% to produce. Luis had to bide his time and NOT give it everything. With the lead group in site he could have likely bridged the gap back to lead group and his team leader but he would risk bringing George back up and giving him another chance to put time on Chris. So, Luis waited, this neutralized George and essentially took him out of the race against Chris. Rory took over at the front. The lead break was brought back, one was dropped and Fabio hung on to the group but it would clearly be difficult for him to attack after his breakaway effort. 2nd and 3rd place on GC were no longer a threat.  But with 20 miles and 2 nasty, steep hills to go it was far from over.  It was now Chris's turn to fill his promises to the team. Chris was attacked on the 2nd to last climb. He produced over 340 watts.  Again not huge numbers but at the end of a hard 80 mile road race it hurts. With one more climb to go another rider from Horizon attacked. Not wanting to chase and lead out the clast climb the rider drifted away. Chris was losing the race. Rory who was dropped on the last climb made his way back to the group now less than 15 riders went to the front and gave his last ounces of strength and brought the rider back just in time for the last climb. Chris was attacked again, harder this time. At the top only 3 riders remained. And Chris was one of them. The 3 rode to the finish together the closest rider being over 50 seconds back after the Time Trial on stage one. The 3 agreed that Chris would not work in the last 5 miles or so to the finish and therefore not challenge for the stage win. Chris finished in 3rd keeping his lead and almost sealing his overall win.  The weak and out powered Denver fit loft team had done it. How? Oreos and a meat stick.
Road race Power file:   http://tpks.ws/en7o
Chris and the others road their bikes the short distance back to the house we were staying at. I drove the car back a bit later after chatting with a few people and retrieved a wheel from the wheel car. Just after leaving the parking lot I got a text.
Luis R.
"Pick up some more Oreos for Chris, we're out"
That night we had dinner, celebrated just a bit on a great day and got ready for the crit. Tomorrows last stage.
If you watched the Crit it likely looked boring. 2 riders got away. We chased, brought them back with 10 minutes to go, there was some posturing, a sprint a winner and Chris held his lead, we had a team podium shot, etc etc. . However the race was a bit more stressful. 2 men went up the road. A world class x-country skier and a rider from Horizon organic. Even with the horizon rider not working they put 30 seconds on us and the gap was getting bigger. This was 10 or 15 minutes into the hour long race. "this is getting out of control fast!" I thought. Luis and I rode on the front and my legs were feeling it. I was almost done. I didn't want Luis to burn himself up early as he is by far the strongest rider we have in this type a race. Luis took bigger and longer pulls. "Take it easy!" I told him. As I blew up Nathan came forward and took over my spot. As the gap grew more horizon riders came to the front to help. Despite having a rider in the lead the group was now threatening the teams 3rd place over all. "fake it till you make it" the phrase seems a bit self-degrading but what it really means is perform above yourself, don't produce what you can, produce what you must to achieve your goals until the you reach them or fall on your face. First place or last.  This is not a tactic I employ with myself or as a coach often. However, sometimes you have to risk everything to gain anything. This is what the saying meant for us on this weekend. In bike racing and all racing, people run out of race track. Many times there is someone going faster but simply too far behind to win. They run out of race track. In bike racing this happens a lot. By taking the lead early everyone else was under pressure. Finally, at some point people have to defend what they have. And in doing so defend riders placed higher than them. Before the race Chris gave us a talk. Not one for speeches this took some by surprise. No one said anything, including me. As we rolled out to the start of our last stage I said out loud. "I got the meat stick so it's all good!" everyone chuckled.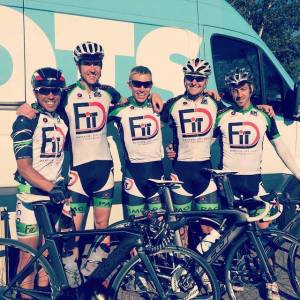 The path to success is not a straight line. The techniques and tools used are as different as the people who use them. For everyone the only way to achieve new heights is with self-tactics and better race execution.  For us and Chris accomplishing this was staying calm, sharp and responding to situations appropriately.  To achieve this we indulged in favorite snack foods at all times of the day and joked about beef jerky.
Now you can talk about the affects to much sugar has on sleep, fat metabolism, performance etc. all day long. But what most will not talk about is what's the consequence of not eating those cookies?
At the summer Olympics in Beijing Misty May and Kerri Walsh were the favorites to win the women's beach volley ball tournament. Half way through competition people started talking about how they were not a dominating as they once were. They had not lost a match yet. Its windy at the top huh!  On an off day instead of resting, practicing, talking with each other about plays, watching tape etc. Misty May went for a long run on the great wall with head phones and did a little boogie in a few spots.  People went nuts. She should be resting her legs, she should be doing this or that, blah blah blah. I even saw an expert talk about recovery and mental prep for Oly events. While many of these comments and discussions were spot on there wasn't one "expert" interviewed on Misty May.
I know what we are supposed to do, but do you need to do? Misty needed to go for a run, see the sites, clear her head and get her boogie on.
They won every match up and a gold medal.
Could we have won with me carrying around beef jerky in my pocket for 3 days and having the team eat 5 bags of Oreos in 3 days?  Maybe but it wouldn't have been as fun.
You can see this time and time again in successful people. While lots of people do things that do not directly better there situation (whatever that may be) the winners have a very specific reason for doing those things that, in the end, gets them closer to their goal.  So sometimes you have to take one steep back to get 2 steeps ahead.