Testimonials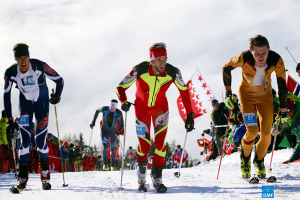 Pic: Rory Kelly Randonee world championships. Verbier, Sw
 "In 2012 I started working with Eric in the spring to prepare for Ironman Wisconsin. My goal was to cross the finish line and I did just that; I finished.
I have made my way from a bucket list athlete to the top ranks. Every year Eric coaches me for the athlete that I currently am. I am never treated like an athlete in a system or program. Eric make the process 100% about me and my goals.
2016 was my best year. I was on the podium at every race but one. In 2017 I bested the previous year when I qualified for the Ironman world Championships in Kona, Hi.  I can't wait for 2018."
   — Elizabeth West
 "Having EK manage my training and racing takes all of the stress out of wondering if I'm doing the right thing, the right way. He knows my strengths and weaknesses, we train them as a team, then I watch the results roll in!"
— Chris Carr. Cat 1 cyclist. Winner pro race Mt Evans Hill Climb.  Course record holder of the 211 mile latoja bike race.
"As a result of training and racing with Eric I have been able to accomplish amazing things. Eric has a very dedicated and committed approach in how he coaches his athletes. His coaching style reflects the belief that no two athletes are the same and training is structured in a way that as an individual you are doing the work that needs to be done to obtain YOUR goals. One thing that really sticks out is how attentive Eric is in race preparation. Making sure you were physically and mentally prepared and completely focused. There were always check-in phone calls to review racing strategy, discuss concerns, or just give the boost of confidence that you need before the horn goes off. Eric helped me build an incredibly consistent year, my best yet by far."
–Aubrey Cook. Professional Triathlete
"I am so surprised I am spending 50% less time training than last year and I am much better than last year. I'm running and biking much faster. Thank you coach!"
–Conrad Rodas
If logic is what you know, and intuition is molded by past experience, EK Endurance Coaching completely put me on a game changing path of self growth. The logic and intuition from my past was fine, but at 41 years the landscape of my personal performance is expanding and I am crushing in the mountains harder than I ever could have imagined. This could not have been done with out EK Endurance trumping my logic and intuition with tactics well beyond what was my spectrum, and unquestioning belief that I can accomplish my goals.
–Ryan Vachon. Elite Ice and Rock climber.
I just completed my first Ironman Lake Placid, breaking my goal time of 12 hours (11:56). Given that I had 2 young children under the age of 2, and a full-time, high-pressure, travel-heavy job, I could not have accomplished this without 2 crucial ingredients. (1) an amazing and supportive wife, and (2) an excellent coach. EK took the time to understand the priorities I had in life, and constantly adjusted my workouts according to my schedule. He was as much a Time-Management expert, as a seasoned coach who knew what it took to cross the finish line himself. Everything from nutrition to equipment to analyzing my swim stroke and bike fitting from afar (sending him videos to review) to race-day execution gave me so much confidence at the start that I almost thought that I could walk across Mirror Lake, much less swim it. His coaching services were small money compared to the overall cost outlays of executing a race (bike, race wheels, entry fees, travel and lodging, etc, etc, etc), but were without a doubt the most important investment of all.
–Savas Gunduz. Father of two.
After almost quitting the sport I entered the first ever Steamboat Stage race after diligently following daily instructions from Eric. Not only was I a transformed racer, in those short few weeks, but I stood on the podium!!
–Jennica Rodriguez. Grade school teacher
WE GO BEYOND THE TRAINING.
This is a core value of ours. After 17 years of professional coaching I have found that training is only part of the puzzle. Not everyone lives in a climate conducive to year round outdoor training, not everyone has the same amount of time to train each week. Everyone has different strengths, weaknesses , different goals and background.  I work with my athletes to maximize their resources to best reach their goals. Training is designed to be fun and sustainable for long term success, happiness and growth.
Based in Boulder, Colorado, EK Endurance Coaching offers customized coaching specifically tailored for each athlete. We travel to other parts of the country to coach our athletes in races and frequently run training camps in various locations. Local clients have access to the highest level of coaching right in their own backyard with group rides and runs. Winter cycling classes, coached swims and the most valuable set of team sponsors and partners and coaching service.
About Coach Eric Kenney
Eric grew up loving everything about the outdoors and everything it had to offer. His parents were both on the ski patrol and as soon as he could walk, Eric was on skis. His love for sports began to grow as he did. He spent years ice and rock climbing and mountaineering, culminating with a trip to the Andes achieving an unofficial speed record of 20,000 foot peak.
Throughout college Eric studied Environmental Science and Nutrition. He also entered the world of competitive sports. As captain of the varsity rowing team his junior and senior years he led the team to a silver medal at the New England Rowing Championships. After college he continued with rowing and led several boats to national championships gold medals and other prestigious wins.
At the end of 2001, Eric found cycling and quickly moved through the ranks to become a Category 1 cyclist. With hundreds of races under his belt, he expanded his training to include running and swimming and soon entered the world of triathlon races where he has stayed ever since.
When Eric works with an athlete, he designs a training program with years of experience and knowledge in a vast array of sports. He works with beginners but also experienced athlete's looking to take their training to the next level. Whether you want a three month plan for a sprint triathlon or three-year plan for an Ironman, Eric can help you reach your goal.
Eric lives in Boulder, CO with his wife, and enjoys training hard, slow mornings with lots of coffee, and a big breakfasts. Eric is currently training. He never really stops being active, ever.
 Coaching Highlights
Recent Coaching highlights:

Club National Championships.Boulder Tri club team comp win
Co Triathlon.  Boulder Tri club team comp win
Ironman 70.3 Boulder. Boulder Tri club team comp win
Ironman Boulder. Boulder Tri club team comp win
5th place Womens 30-34 Ironman Boulder
1st place P-1-2 CO Hill climbing Champ (Mt Evans) 2016
1st women Pro Team Time Trial nation championships
Kona Qualifier at inaugural Boulder Ironman 17th overall
sub 12hr IM lake placid. avg. 6.5 hr's of training a week!
1st place CO Hill climbing Champ. 2013
1st place CO state champ TT
9th over all amateur Lake placid Ironman
5th place A/G 70.3 worlds, 10 min. run PR
1st place RAAm 4 man team
1st Tour of the Gila stage 4
1st place Hugo RR